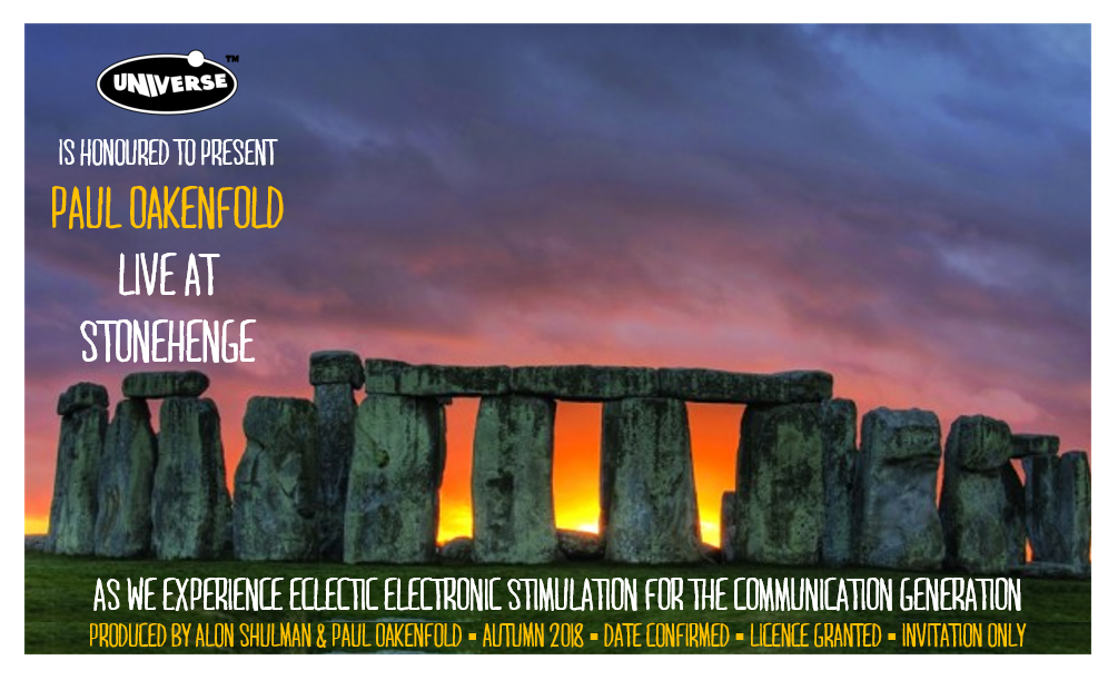 Superstar DJ Paul Oakenfold to Play Stonehenge
Historic first ever performance at the UK's Wonder of The World
Monday, August 20, 2018 — Stonehenge, one of the world's most famous and spectacular monuments will play host to a unique world first experience when Paul Oakenfold performs a full sunset set this September 2018.
World famous DJ, recording artist, producer, and UK house music pioneer Oakenfold has been invited to perform by Alon Shulman, MD at Universe, and given the honour of being the first ever artist to play at the sacred stones site in Wiltshire.
There will be an invited audience of 50 hand-picked guests to witness this special experience at this UNESCO World Heritage site and this will add to the unusual locations Paul's played at including the Great Wall of China, the FIFA World Cup 2018 and Base Camp on Mount Everest.
Having the opportunity to play at the site, built 5,000 years ago, is a "privilege" adds Oakenfold. "I am so lucky to be able to share my music from such an iconic site. The energy there will be like nowhere else on earth, and this will be reflected in my music and performance. Despite having performed at incredible events and locations all across the globe, sunset at Stonehenge will be the most magical."
Oakenfold will record their new album 'Live at Stonehenge' on the night creating a 'first of its kind experience' for those lucky enough to be a part of this historic live event.
The event was conceived and is produced by Alon Shulman as part of his new 'Origins' concept that incorporates music, film, performance "and much more". Shulman, commenting on the plans, "Together, Paul and I wanted to create something completely unique. Having worked closely with English Heritage it is fitting that our first special moment takes place at Stonehenge".
This live event is the next installment in a series of a number of special projects that are planned to take place over the next three years. Paul Oakenfold says: "Its Alon's special relationships and his long-term vision that make the impossible possible. We'll shortly be announcing our plans using amazing locations championing great artists and new music."
As the custodians of Stonehenge, English Heritage are tasked with preserving many of the UK's most important landmarks. "We've been working very closely with Alon Shulman and the team at Universe on a number of exciting forward-looking creative initiatives that support English Heritage's values of conservation and inspiration" says English Heritage director Luke Purser. "It is exciting that they've invited British DJ Paul Oakenfold, one of the most accomplished and recognised artists on the global stage, to be the first DJ to play at Stonehenge. We're delighted with Paul's enthusiasm for our work and that he has embraced the uniqueness of this site where he will be recording his new album, which will support the work of the Charity".
For further information & images:
Contact Matt Oliver: moliver@infamouspr.com
ABOUT
Universe™: A pioneering dance music brand at the forefront of dance and youth culture, Universe is headed up by Alon Shulman. Known for legendary events with ground-breaking production, special locations and entertainment overload including the genre defining Universe Tribal Gathering festival, Thirst, UniverseCity and the Final Frontier club nights, Universe has hosted over 400 of the finest live acts in the world including Prodigy, Moby, Chemical Brothers, Underworld, Leftfield, Kraftwerk, The JB's, Orbital, Faithless and Daft Punk. Universe events have without equal provided the finest global DJ line-ups ever assembled including Sasha, Paul Oakenfold, Fatboy Slim, Masters at Work, Pete Tong, Todd Terry, Carl Cox, Laurent Garnier, DJ Fresh and Armand Van Helden.
Alon Shulman: Owner of the Universe™ brand, Alon is an award winning festival and club promoter, author and is the CEO of the World Famous Group – a multimedia entertainment business that includes content generating activity, management, production, promotion, Entrepreneurs Universe and a literary agency. He acts a Special Advisor to a number of brands, individuals and organisations.
Paul Oakenfold: His story is a legendary one: in the summer of 1987, Paul Oakenfold took a trip to Ibiza, fell in love with the island and its sounds, went back to the UK and transformed the UK dance landscape with his brand of Balearic house, defining a scene, a culture and a generation. His influence is astonishingly wide: he was a driving force behind acid house and trance, created the dance music and EDM explosion in the USA where he still resides, released groundbreaking singles, remixes and albums on his legendary Perfecto label, produced the Happy Mondays, remixed the likes of Madonna, Moby, Rolling Stones and U2 who he also supported and toured with, making him the first rock star DJ. His DJ residencies in the UK, in Ibiza and around the world continue to establish him as one of the finest selectors, influencers and artists, positioning him as a titan of dance music. He has been voted the No1 DJ in the World twice, nominated for 2 Grammy Awards and was recently (July 2018) recognised as the most influential DJ ever.
English Heritage: English Heritage cares for over 400 historic buildings, monuments and sites - from world-famous prehistoric sites to grand medieval castles, from Roman forts on the edges of the empire to a Cold War bunker. Many of England's most important landmarks including Dover Castle, Wellington Arch, Stonehenge, Kenwood House and Hadrian's Wall form part of the portfolio. Through these, they bring the story of England to life for over 10 million people each year. Caring for these places and their collections for the benefit of this and future generations is a cornerstone of everything they do. http://www.english-heritage.org.uk/