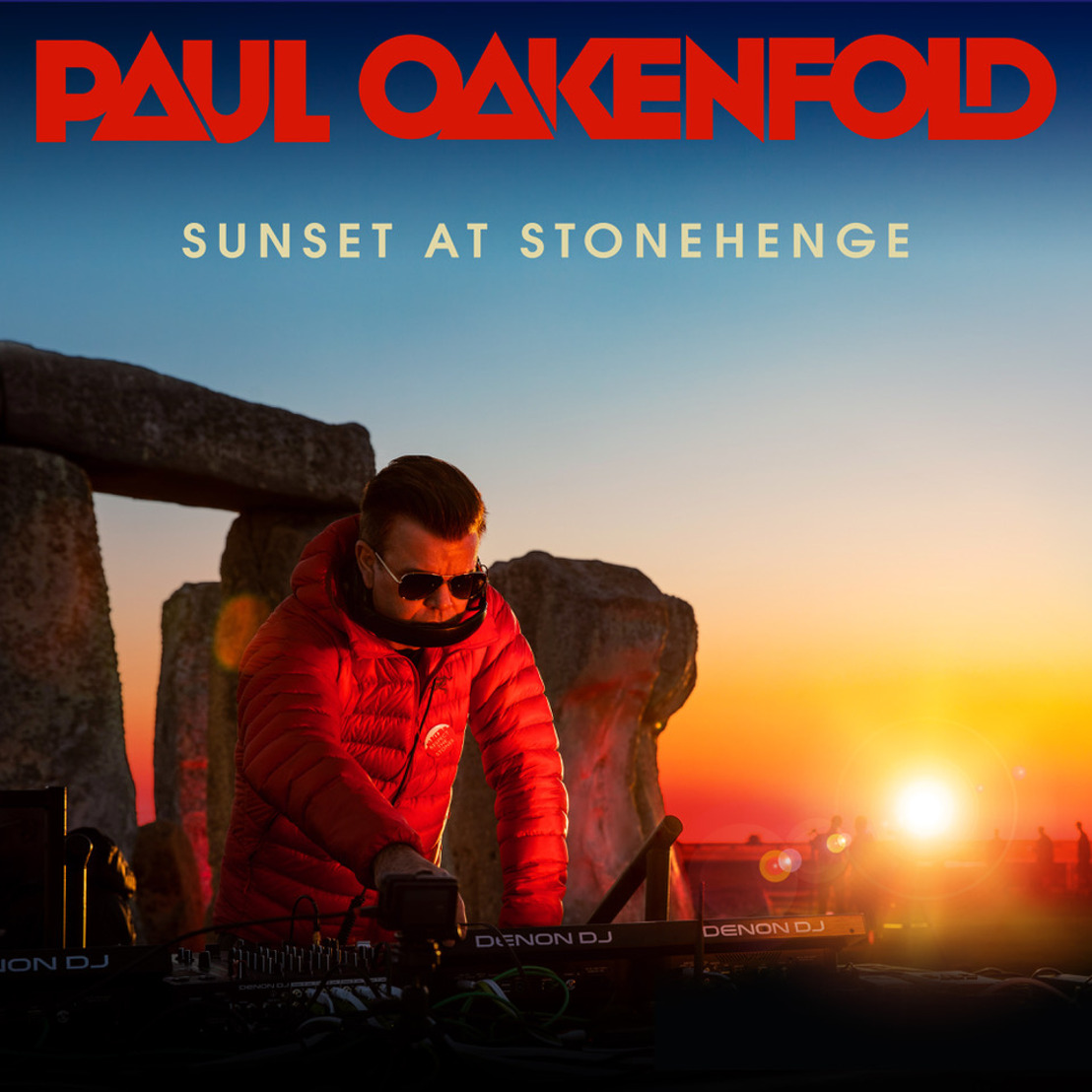 Paul Oakenfold Releases Sunset at Stonehenge Album
Friday, January 25, 2019 — Paul Oakenfold Sunset at Stonehenge is the album taken from Paul's landmark DJ set from English Heritage and UNESCO World Heritage site, Stonehenge.
In September 2018 World famous DJ, recording artist, producer and UK house music pioneer Oakenfold was the first ever DJ to play a gig at the ancient stone circle. The invite only gig captured worldwide press and TV attention as went down as an iconic moment in dance music history.
The album reflects Paul's ability to cross genres, creating unique soundscapes that combine film score, classical, opera and electronic music to form a sonic journey which separates it from normal DJ led mix albums.
Artists featured on the album include U2, Andrea Bocelli, Vangelis, William Orbit, Empire Of The Sun, The Grid, Hans Zimmer, Chicane (exclusive remix) and Oakenfold himself. All the tracks for were selected for their atmospheric qualities to perfectly compliment the setting. The album also contains a bonus track Paul made for the album simply titled, Stonehenge which include ambient sounds inspired by the location of Stonehenge itself.
Over three decades Paul Oakenfold has shaped the dance & electronic music genre and remains one of the leading forces in the wider global music scene and was recently named The Most Influential DJ of All Time, Uk newspaper The Evening Standard while also being the one the top searched Electronic artists on Google. He has also just been made a Soccer Aid to Unicef Advisor due to helping raise 6.7 Million for the charity.
His works have taken him from the DJ booth of the worlds' hottest nightspots and festivals to producing soundtracks for Hollywood blockbuster movies. His diversity has earned him two Grammy nominations. He's produced & remixed for the likes of U2, Madonna and The Happy Mondays. He's remixed Michael Jackson, The Rolling Stones and Justin Timberlake plus released over 20 DJ mix compilations. Paul has also been responsible for creating film scores including The Bourne Identity, Matrix Reloaded, Shrek 2, Swordfish and Collateral.
Paul Oakenfold Sunset at Stonehenge follows Paul's ground-breaking releases recorded at The Great Wall Of China back in the early 2000s, before China was not as 'open' and more recently at Base Camp, Mount Everest, officially the World's Highest DJ Gig which also resulted in an recorded album released in 2018 which is also available!
This album is released on New State Music and will be available as CD, Download and on Digital Streaming Platforms. In US only the Export Edition of the CD will be available
Tracklist:
01 U2 - Love Is All We Have Left
02 The Grid – Floatation (Subsonic Grid Mix)
03 Empire Of The Sun – We Are The People
04 Clarian – Kill For Love
05 Kidnap Kid ft. Leo Stannard – Moments
06 Butch & C.Vogt – Bliss
07 Hibernate ft. Victoria Gydov - Lux Tua
08 Vangelis - Rachel's Song
09 Perfecto Symphony Orchestra – Vampire Hunters
10 The Prague Philharmonic Orchestra & Derek Wadsworth – The Ecstasy Of Gold
11 Andrea Bocelli - Puccini: Nessun dorma! [Turandot / Act 3]
12 Chicane ft. Maire Brennan - Saltwater (Sunrise Mix)
13 William Orbit – Barber's Adagio For Strings
14 Paul Oakenfold – Southern Sun
15 Joan Retamero – She Dreamed Through The Sky
16 Amari & Nico Morano ft. Jinadu – Desire (Eelke Kleijn Remix)
17 Hans Zimmer, Gavin Greenaway, Lisa Gerrard, The Lyndhurst Orchestra – Sorrow
18 Loudeast – Lights Off!
19 Vangelis - Tears In Rain
Bonus Track: Paul Oakenfold - Stonehenge
More Info
www.englishheritage .com