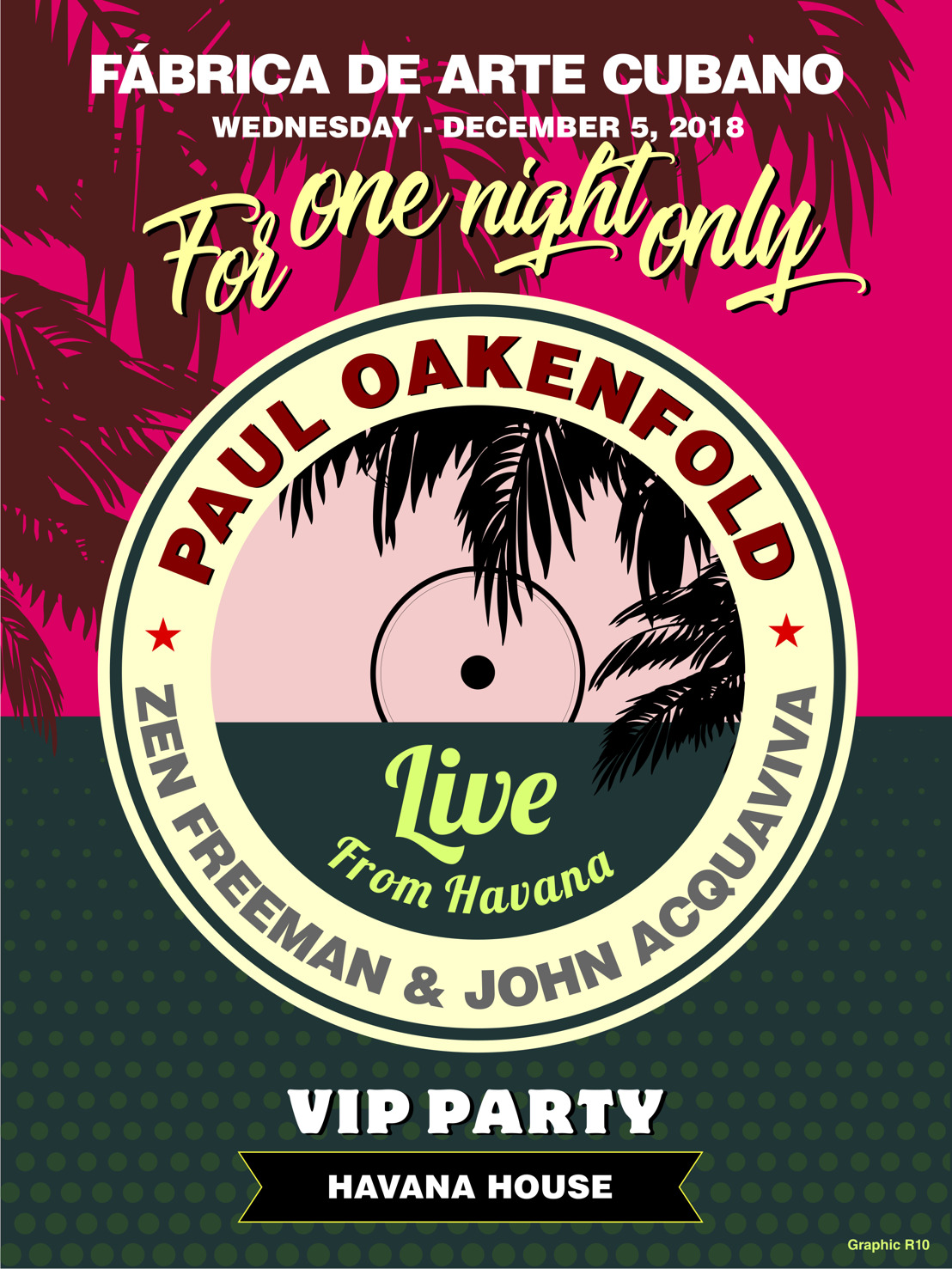 Paul Oakenfold Announces His Return to Cuba for a Live Concert at Fabrica de Arte Cubano, Havana's Creative Epicenter
Thursday, November 15, 2018 — Havana House and Fabrica de Arte Cubano (FAC) are bringing DJ icon Paul Oakenfold, a three-time Grammy Award and two-time World Music Awards nominee, back to Cuba for a live concert, December 5, 2018. The concert marks nearly two decades since Oakenfold first played in Havana, immortalized in the rave-scene classic, "1999 Live from Joni's, Havana, Cuba."
As an artist motivated by the beat within his surroundings, Oakenfold seeks new terrains, and revels in bringing his sound to unexpected locations.
"I first played Cuba in 1999. I have since been back and played there again with some of the great local musicians. This will be my third appearance in one of my favorite cities in the world. Again, it will be with some of the great local musicians. Come support this great event!" – Paul Oakenfold
The concert marks the first collaboration for Havana House, an organization promoting Cuban art, and HabanaLive, a luxury travel & event production company.​
About Paul Oakenfold
Three-time Grammy-Award nominee and Perfecto Records label-head Paul Oakenfold has been touted as one of the world's leading DJ/remixers by various outlets, including CNN and Rolling Stone. In total, his releases—which include Greatest Hits & Remixes (Perfecto/Ultra Records, 2007), A Lively Mind (Maverick, 2006), Another World (Perfecto, 2004) and Bunnka (Maverick, 2002)—have reached almost two million in sales in the States alone. As a touring musician, Oakenfold has DJ'd in hundreds of places around the world including the Great Wall in China, the Hollywood Bowl in Los Angeles (sold out) and Red Rocks Amphitheatre in Colorado.
About Fabrica de Arte Cubano
Fábrica de Arte Cubano (FAC) is the thriving, pulsating laboratory of contemporary Cuban culture. Housed in a converted cooking oil factory, FAC sprawls, with every room and alley offering a space for co-creation. With a strong social and community aim, FAC promotes the work of artists from all genres and medium of art: film, music, dance, theater, visual arts, photography, fashion, graphic design, and architecture. The project's mastermind, Cuban rock star and artist X Alfonso, envisioned the space and purpose of FAC based on his own experiences developing as an artist inspired by the diverse talents around him.
About Havana House
Havana House aims to bring Cuban contemporary and street art to the international arena as well as bringing world renowned artists and musicians to Cuba.