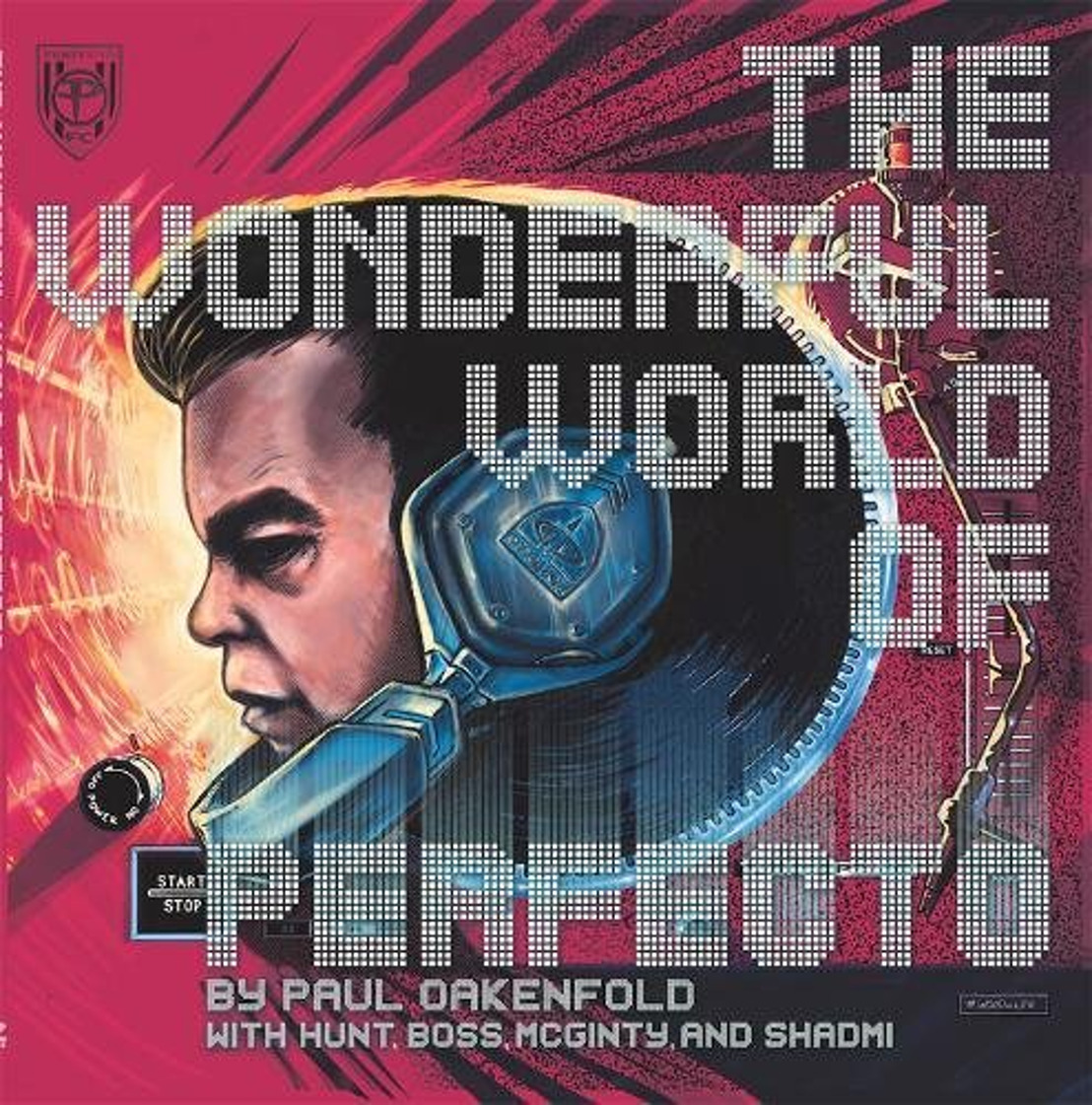 Legendary DJ Paul Oakenfold Releases Memoir Featuring Cameos by Hunter S Thompson, U2, Madonna, Calvin Harris and an Original Soundtrack
Tuesday, December 12, 2017 — Watch the Official Trailer
December 12, 2016) Grammy Award-Winning DJ and platinum-selling artist Paul Oakenfold is telling the "not quite true" story of his life as one of the progenitors of electronic music and one the greatest DJ's of all time with his first ever book, a graphic novel which features an original soundtrack by Oakenfold.
THE WONDERFUL WORLD OF PERFECTO: WITH PAUL OAKENFOLD AND FRIENDS spans the entirety of Oakenfold's career — from his residency at Cream to drinking absinthe and shooting guns with Hunter S Thompson; from touring with U2, Madonna and Calvin Harris to performing on Mt Everest. The graphic novel, on sale now in bookstores and comic stores everywhere from Z2 Comics, features Oakenfold collaborating with renowned indie graphic novel artists, with interior art by Tyler Boss (4 Kids Walk Into a Bank, Chris Hunt (Carver), Ian McGinty (Welcome to Showside) and Koren Shadmi (The Abaddon) and a cover by WOODnLeG.
Oakenfold is making select book-related appearances in New York and Los Angeles in 2017, timed to the book's release:
December 15th
Forbidden Planet NY
5:30 - 6:00 PM
832 Broadway, New York, NY 10003
December 19th
Barnes & Noble The Grove
7:00-8:00 PM
189 The Grove Dr,
Los Angeles, CA 90036
2017 marks the 30 year anniversary of Paul Oakenfold's famed trip to the white island of Ibiza, sparked the creation of club culture as it is known today as well as his legendary DJ'ing career. THE WONDERFUL WORLD OF PERFECTO: WITH PAUL OAKENFOLD AND FRIENDS charts his historic career rise to fame, fortune and musical nirvana and each of the artists collaborating with Oakenfold illustrate a different time period in the DJ's life. Throughout his career, Paul Oakenfold has been nominated for 3 GRAMMYs, sold millions of records and has been named DJ Mag's #1 DJ twice. Oakenfold has collaborated with Pharrell Williams, Grandmaster Flash, Ryan Tedder, Perry Farrell, Nelly Furtado, Ice Cube, Tricky, Hunter S. Thompson and the list goes on. He's officially remixed U2, Madonna, The Rolling Stones, Massive Attack and Maroon 5 among others.
THE WONDERFUL WORLD OF PERFECTO: WITH PAUL OAKENFOLD AND FRIENDS is part of a new initiative by Z2 Comics to publish graphic novels about music, with each book accompanied by an original soundtrack. Earlier this year, the publisher published MURDER BALLADS, the acclaimed rock'n'roll noir graphic novel about the music industry and redemption by writer Gabe Soria and artists Paul Reinwand and Chris Hunt, and and the MURDER BALLADS original soundtrack, featuring music by bluesman Robert Finley and Grammy-Award winner Dan Auerbach.
THE WONDERFUL WORLD OF PERFECTO: WITH PAUL OAKENFOLD AND FRIENDS is on sale in comic book stores and bookstore and retails for $24.99. For more updates on the book, follow Z2 Comics on Twitter and Facebook and follow Paul Oakenfold on Twitter, Facebook, YouTube, Google+, and Instagram.
To request an interview with Paul Oakenfold, contact:
Matt Oliver, Infamous PR
moliver@infamouspr.com; 714 883 5142
To request art or to request more information on the Z2 Comics, music initiative contact:
David Hyde, Superfan Promotions LLC